5 Document Disposal Mistakes to Avoid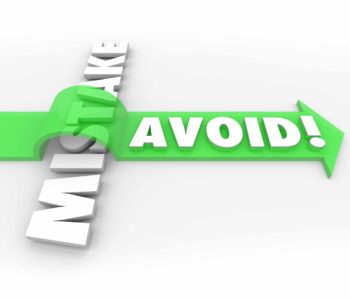 As a business owner, privacy protection falls squarely on your shoulders. If sensitive information is stolen and compromised on your watch, you and your company can face serious legal and financial repercussions. Here are five document disposal mistakes you should avoid at all costs:
1. Ignoring Final Disposition Dates
Keeping documents longer than necessary is a mistake, but so is getting rid of them too soon. Always verify a document's retention timeframe before disposing of it. If your organization doesn't have a formal records retention policy, seek the services of an attorney, accountant, or certified records management professional.
2. Using Office Shredders
You can toss a document into a trash can faster than you can shred it. Office shredders are slow and prone to paper jams.If you want to minimize privacy breach risks in your business, document disposal must be quick, easy, and secure.
A paper shredding service makes it easy for your employees to discard confidential documents. Secure collection containers are delivered to your office free of charge. A variety of styles and sizes are offered to match your office décor and document disposal volume. No matter which size or style you choose, collection containers allow your employees to discard sensitive documents securely and without having to remove staples, sticky notes, and paperclips.
3. Recycling without Shredding
Never discard documents with personally identifiable information (PII) in a recycling bin. Helping the planet is important, but so is protecting customer and employee privacy. A shredding service offers a solution for destroying paper documents and recycling shredded waste.
4. Ignoring Privacy Law Requirements
Several federal laws mandate how companies must dispose of confidential patient, client, and employee information, including:
Failure to comply with these regulations may result in fines and/or penalties. Know each law's requirement about the disposal of PII and protected health information (PHI).
5. Not Partnering with a NAID AAA Certified Shredding Company
Anyone can buy a shred truck and shred documents, but not every shredding provider is NAID AAA Certified. NAID stands for the National Association of Information Destruction, the non-profit, standards-setting authority for the information destruction industry. A NAID AAA Certified paper shredding company must meet the highest industry standards for the destruction of paper records. In order to achieve NAID AAA Certification, a shredding company must pass unannounced, ongoing audits that assess many aspects of their operation, including:
Employee screening processes
Insurance requirements
Written security policies and procedures
Certified proof of shredding processes
Partner with a NAID AAA Certified shredding company to make sure you documents are collected, handled, and destroyed with unparalleled security and ethics.
DeVries Business Services proudly provides NAID AAA Certified paper shredding services and information management services to businesses in Spokane, Eastern Washington and Northern Idaho.
Request Your Quote
We would love to hear from you! Please fill out this form and we will get in touch with you shortly.
"*" indicates required fields
601 E Pacific Ave
Spokane WA 99202
Washington:
(509) 838.1044
Idaho:
(208) 765.4397
Toll Free:
1.866.433.4691
Office Hours:
Mon - Fri
7:30am - 4:00pm
Closed for Lunch:
11:30am - 12:30pm
Drop-Off Shredding Hours:
Mon - Fri
8:00am - 3:00pm
Closed for Lunch:
11:30am - 12:30pm