National Association of Information Destruction
Higher Standards in Document Destruction Services
DeVries is NAID AAA Certified
DeVries Business Services is a NAID AAA Certified Information Destruction Contractor for On-Site Information Destruction Services, which allows you to witness the secure destruction of your information. The NAID Certification Program establishes standards for a secure information destruction process including such areas as operational security, employee hiring and screening, the destruction process, responsible disposal and liability insurance.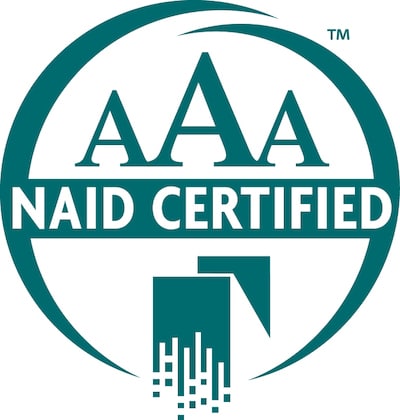 Not all document shredding providers are NAID AAA Certified. The NAID Certification Program is offered on a voluntary basis. It is easy to make claims and promises when no one is examining your business—but as a NAID Certified Contractor, DeVries Business Services has gone beyond claims and promises by submitting to a close examination of every aspect of our security.
The process of becoming NAID Certified is extensive. DeVries Business Services demonstrated to a Certified Protection Professional, independent of NAID, that we qualify for NAID AAA Certification per the following criteria:
7-year criminal records search on state wide database for all states on SSN Header Search
7-year criminal records search on county database for all counties on SSN Header Search
Confidentiality Agreement
I-9 for US employees hired
7-year employment history verification
Pre-employment and random drug screening for all employees
Certified proof that shredded output is unreadable
Document Destruction Technicians wear company branded clothing and picture ID badges
$2,000,000 General Liability Insurance
Comprehensive written security policies and procedures
If security and the proper application for ″Reasonable Care″ standards are important to your organization, then you should choose only NAID AAA Certified vendors for your managed document destruction programs.
DeVries Business Services is the only locally-owned business that is NAID AAA Certified. With our secure, honest and professional service and our competitive pricing, shouldn′t you be looking at DeVries for Document Destruction service? We would be honored to serve you!
Please call us for a quote or request for a quote through our web site. Compare our level of security and pricing to your current vendor. You will be happy you did!
Request Your Quote
We would love to hear from you! Please fill out this form and we will get in touch with you shortly.
"*" indicates required fields
In 2022, we recycled 2,250 tons of paper, saving:
7,425
cubic yards of landfill space
4,960,395
pounds of greenhouse gases
601 E Pacific Ave
Spokane WA 99202
Washington:
(509) 838.1044
Idaho:
(208) 765.4397
Toll Free:
1.866.433.4691
Office Hours:
Mon - Fri
7:30am - 4:00pm
Closed for Lunch:
11:30am - 12:30pm
Drop-Off Shredding Hours:
Mon - Fri
8:00am - 3:00pm
Closed for Lunch:
11:30am - 12:30pm