Onsite Mobile Shredding Services
For over 25 years, DeVries has helped business and residential customers protect their privacy. Our full range of shredding services include: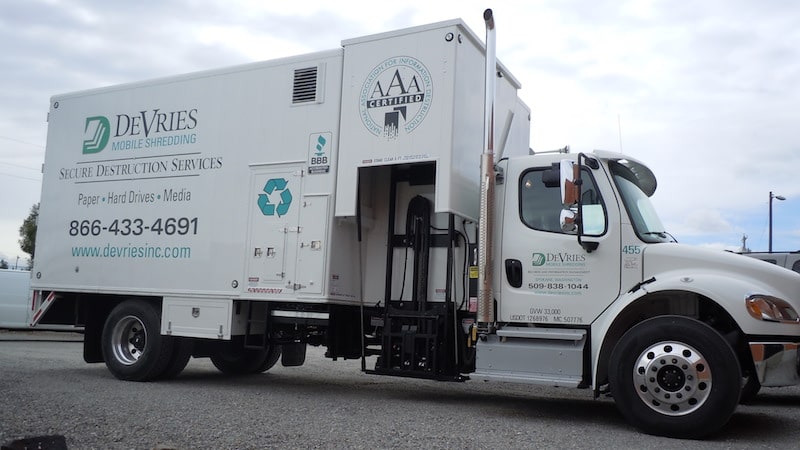 Whether you are homeowner needing identity theft protection, or a business looking for a reliable, managed document destruction solution, you can always expect responsive, courteous service with a local focus.
Your Local, Onsite Mobile Shredding Solution
DeVries is proud to be the only locally-owned business in Spokane and the surrounding areas that is National Association for Information Destruction (NAID) AAA Certified for onsite document shredding. Besides the requirement to meet strict security, hiring and insurance standards, we are subject to ongoing audits by the independent, third-party security professionals of NAID.
Our onsite shredding service is easy and secure. Your documents are destroyed in our mobile shredding vehicles using a strict chain of custody process. These measures ensure your organization stays compliant with local, state and federal regulations for the secure destruction of documents. 
Secure Shredding Collection Containers
The secure handling and destruction of your information is a job we take seriously. We deliver locking collection containers to your business that are emptied on a reoccurring basis. These bins come in a several styles and sizes to meet your destruction needs and office décor.
Executive consoles
11 gallon containers
34 and 64 gallon bins
Each container comes with a lock and key to protect the privacy of your information. When your containers are full, we arrive at your door for secure onsite shredding. A screened, uniformed DeVries employee collects the containers and places them on the hydraulic lift system of the mobile shredder so that you can witness the destruction of your business documents. We then provide a Certificate of Destruction for your records. 
A Shredding Service Partner You Can Trust
DeVries is dedicated to the protection of your business and personal information. Our mobile shredding service employs both Pierce & Tear and Hammermill technologies, ensuring your documents are completely and irrevocably destroyed. Our secure chain of custody process extends to the recycling of your information as well. And once your documents are destroyed, the shredded fibers are mixed and baled for recycling by DeVries right here in Spokane before being sent to our recycling partner in Yakima.
Beyond Shredding: Community Commitment
A healthy community benefits us all. As a local business, we are committed to supporting the communities we serve. Our mobile shredders and trucks are sourced locally, right here in Spokane, while our state-of-the-art paper baler was purchased in Post Falls. Even our shredded paper fiber is recycled regionally in Yakima to produce apple cartons for Washington-grown apples and newsprint for local newspapers.
Throughout the year, we are proud to offer Free Shred Day events in partnership with our business customers and local non-profit organizations, helping Spokane residents keep their information safe and secure.
To learn more about our shredding services, please contact us by phone or complete the form on this page.
Request Your Quote
We would love to hear from you! Please fill out this form and we will get in touch with you shortly.
"*" indicates required fields
In 2022, we recycled 2,250 tons of paper, saving:
7,425
cubic yards of landfill space
4,960,395
pounds of greenhouse gases
601 E Pacific Ave
Spokane WA 99202
Washington:
(509) 838.1044
Idaho:
(208) 765.4397
Toll Free:
1.866.433.4691
Office Hours:
Mon - Fri
7:30am - 4:00pm
Closed for Lunch:
11:30am - 12:30pm
Drop-Off Shredding Hours:
Mon - Fri
8:00am - 3:00pm
Closed for Lunch:
11:30am - 12:30pm