Remember back when you would call a taxi to deliver a patient chart? You wouldn't do that today.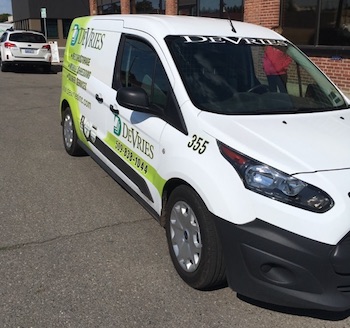 Nor should you call just any courier service company to deliver a chart or prescription medicine for you now. With DeVries, you can trust that your Protected Health Information will be handled under strict HIPAA compliance.
Everything that we do is driven by security and compliancy. We have Business Associates Agreements with all of our healthcare customers confirming that we will protect the confidentiality of PHI. All of our couriers have HIPAA and Data Breach training. Policies and Procedure manuals are in place and signed acknowledgement and understanding documents are in each employee's file. Every two-months, existing and new privacy rules are reviewed with our Couriers. On an annual bases, our Standard Operating Procedures, which include HIPAA and Data Breach policies, are reviewed with a new acknowledgement and understanding sheet signed be each employee and filed.
You won't find a better team of couriers trained for PHI transportation services. There are specific precautions that are taken to protect patient information. All PHI media are transported in sealed tote bags or secure metal containers to its destination. Chain of custody forms are signed by the sender and receiver with a description and piece count of the media, whether it is hardcopy or any electronic device that can contain PHI.
Nothing is taken for granted. Media is transported in secured totes and containers. Our cargo vans, which have limited inside viewing access, are always locked and secure. GPS Fleet Tracker is watching our vehicles at all times and every courier has a company issued cell phone. Our couriers are always on alert to safeguard improper disclosure or loss of PHI.
Call us anytime if you would like to know more about our Secure Courier Service. We would be happy to give you a quote for our service.
Request Your Quote
We would love to hear from you! Please fill out this form and we will get in touch with you shortly.
601 E Pacific Ave
Spokane WA 99202
Washington:
(509) 838.1044
Idaho:
(208) 765.4397
Toll Free:
1.866.433.4691
Office Hours:
Mon - Fri
7:30am - 4:00pm
Closed for Lunch:
11:30am - 12:30pm
Drop-Off Shredding Hours:
Mon - Fri
8:00am - 3:00pm
Closed for Lunch:
11:30am - 12:30pm