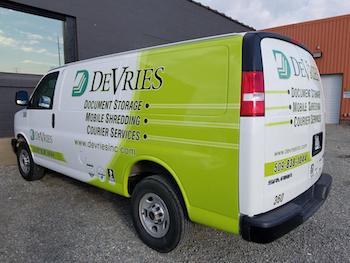 We like scheduled and recurring delivery customers and you will love our friendly couriers and easy on the pocket prices. Scheduled deliver services is the best way to depend on the delivery of your packages when you need it to be there. Whether it is mail delivery, patient charts or bank deposits, DeVries has a fleet of vans and trucks that can handle any job, big or small. Because we make it a point to meet and handle your schedules, you can relax and focus on your job.
At DeVries Business Services we are serious about getting your important packages and documents to you on time. And with scheduled services, you can set your clocks by the arrival of our couriers. You can rely on us to be there when you need us.
We also take security very seriously. Because we handle patient charts and financial records daily, all of our couriers are subjected to criminal background checks and drug testing as condition for employment. You will instantly recognize a DeVries courier when they arrive at your office. They are the ones wearing DeVries branded uniforms and photo ID badges and a friendly smile.
Call us our use the Web for a quote. We are always happy to help solve your problems and fulfill your needs.
Request Your Quote
We would love to hear from you! Please fill out this form and we will get in touch with you shortly.
601 E Pacific Ave
Spokane WA 99202
Washington:
(509) 838.1044
Idaho:
(208) 765.4397
Toll Free:
1.866.433.4691
Office Hours:
Mon - Fri
7:30am - 4:00pm
Closed for Lunch:
11:30am - 12:30pm
Drop-Off Shredding Hours:
Mon - Fri
8:00am - 3:00pm
Closed for Lunch:
11:30am - 12:30pm