Secure Contract Courier Service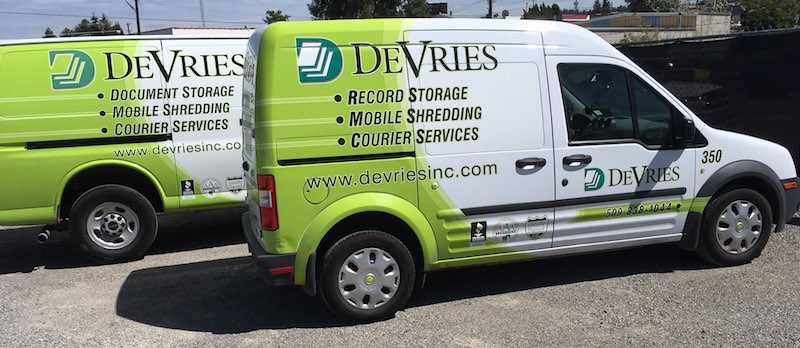 Devries Business Service provides secure contract courier services when time and security matter. Whether you need it the same day, the next day, or any day, you can depend on our professional couriers to get it there when you need it. We provide dedicated pickup and delivery services at the state and county levels as well as for medical clinics, insurance companies, and legal firms just to name a few.
Call us at (866) 433-4691 or complete the form on this page to book your Secure Contract Courier Service.
Some of the items we pick-up and deliver for our clients include:
Office Supplies
Mail
Contracts
Bank Deposits
Library Books
Computer Backup Cartridges
Patient Charts
Payroll
Business Forms
Inter-Office Mail
Prescription Medication
Our clients depend on our couriers to have their packages delivered on time. And they depend on our professionalism and security. Everyone of our employees are subjected to a rigid background check and drug testing as condition of employment. You will instantly recognize a DeVries courier when they arrive at your office. They are the ones driving DeVries-branded vehicles and professionally attired with a DeVries uniform, photo ID badge, and a friendly smile.
For more information about our Secure Contract Courier Service, please call us at (866) 433-4691 or complete the form on this page. We're ready to help!
Request Your Quote
We would love to hear from you! Please fill out this form and we will get in touch with you shortly.
"*" indicates required fields
601 E Pacific Ave
Spokane WA 99202
Washington:
(509) 838.1044
Idaho:
(208) 765.4397
Toll Free:
1.866.433.4691
Office Hours:
Mon - Fri
7:30am - 4:00pm
Closed for Lunch:
11:30am - 12:30pm
Drop-Off Shredding Hours:
Mon - Fri
8:00am - 3:00pm
Closed for Lunch:
11:30am - 12:30pm