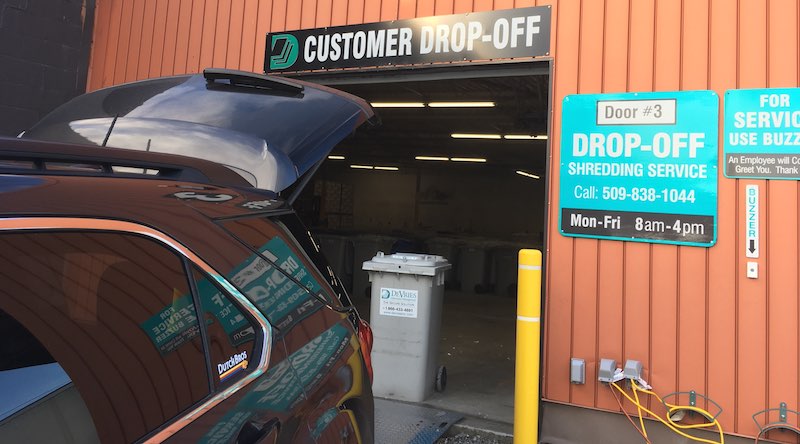 Our Other Shredding Services
Why We Offer Drop-Off Shredding Services
DeVries Business Services is reaching out to the local communities of Washington and Idaho by offering residential shredding services to help our residential customers protect themselves and their personal information from identity theft or fraud. In today's busy world, we all want to be able to work and not worry about our private information being tampered with. Identity theft is a big problem in the United States and the issue can only be resolved by taking proper actions to ensure that your personal information is being protected or destroyed by the right professionals.
What's The Cost for Drop-Off Shredding Services
DeVries Business Services is affiliated with many storage facilities throughout the Washington and Idaho regions. Our prices are set with the facility members for a volume discount (so get your friends involved) and the prices will vary depending on facility locations, total number of shred bins that are being shredded, and member agreements.
Where Will You Be Located?
DeVries residential shredding service drop-off locations are located at any one of our affiliated secure storage locations listed below. The storage locations that DeVries Business Services are affiliated with are in compliance with current security requirements and allow for a locked and secure location until a professional member or the DeVries shred team disposes of the protected information properly.
What Are the Benefits to You?
DeVries Business Services understands that many local area small businesses and households store their protected information until it needs to be disposed of. As a benefit to our local area residents, DeVries Business Services offers 32 gallon and 64 gallon shred bins to help accommodate any volume of protected information. Once the shred bins are full, a professional member of the DeVries shred team will pick-up the locked bins and shred the material onsite. Once this is completed, a certificate of destruction will be issued to ensure proper destruction took place and that your private information is protected.
Who Is Drop-Off Shredding for?
DeVries Business Services currently services the inland northwest and north Idaho regions with commercial shredding services. DeVries Business Services understands the need for everyone to be able to protect their information whether at home or at work, that's why DeVries Business Services is proud to offer our shredding services to our residential customers too. The residential shredding services will help to alleviate the concern for identity theft and it will help you to protect all your personal information.
Please note: Off-Site/Drop-Off service is not NAID AAA Certified.
Secure Drop-Off Shredding Service Locations:
Spokane
Our Main Office
601 E Pacific Ave
Spokane, WA 99202
Drop-Off Hours: M-F 8am-3pm
Request Your Quote
We would love to hear from you! Please fill out this form and we will get in touch with you shortly.
"*" indicates required fields
In 2022, we recycled 2,250 tons of paper, saving:
7,425
cubic yards of landfill space
4,960,395
pounds of greenhouse gases
601 E Pacific Ave
Spokane WA 99202
Washington:
(509) 838.1044
Idaho:
(208) 765.4397
Toll Free:
1.866.433.4691
Office Hours:
Mon - Fri
7:30am - 4:00pm
Closed for Lunch:
11:30am - 12:30pm
Drop-Off Shredding Hours:
Mon - Fri
8:00am - 3:00pm
Closed for Lunch:
11:30am - 12:30pm