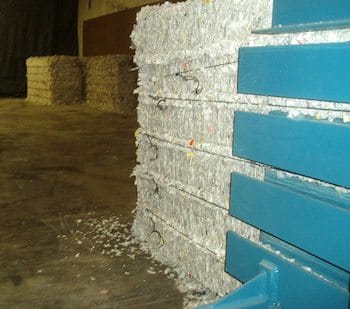 We pride ourselves in being a local business and we purchase from local businesses whenever we can. All of our mobile shredders, trucks and courier vans are purchased locally.
At DeVries, we bale our own paper fiber. And our paper baler was purchased locally, too, in Post Falls, Idaho. While most shredding companies will ship their shredded fiber to China and Mexico to get top dollar for their fiber, we have chosen a different path. Our shredded fiber is recycled regionally in Yakima, Washington to produce apple cartons for Washington grown apples and newsprint for our local newspaper. We are high on regional sustainability, while low on our carbon footprint.
Request Your Quote
We would love to hear from you! Please fill out this form and we will get in touch with you shortly.
"*" indicates required fields
601 E Pacific Ave
Spokane WA 99202
Washington:
(509) 838.1044
Idaho:
(208) 765.4397
Toll Free:
1.866.433.4691
Office Hours:
Mon - Fri
7:30am - 4:00pm
Closed for Lunch:
11:30am - 12:30pm
Drop-Off Shredding Hours:
Mon - Fri
8:00am - 3:00pm
Closed for Lunch:
11:30am - 12:30pm