Document Scanning Services in Spokane, Eastern Washington and Northern Idaho
DeVries Business Services is your local document conversion specialist. We turn your paper documents into organized, accessible digital files. Control your conversion costs by scanning your records incrementally, as needed, or all at once. Our document scanning services include: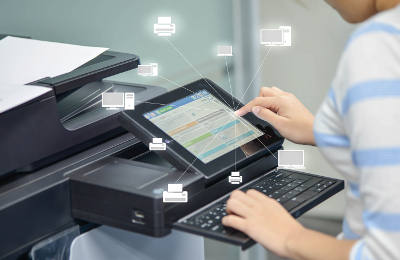 Conversion Scanning – go paperless by digitizing your entire record inventory
Workflow Scanning – automate the storage and conversion of your workflow files in batches
Scan-on-Demand – store offsite with us and have your documents digitized as needed
Whichever method you prefer, you'll gain all the benefits of having digital records, including:
Easy collaboration and distribution
Better data preservation
Saving on storage costs
To learn more about our scan services or to request a free quote, please contact us by phone or complete the form on this page.
Document Scanning Solutions Tailored to Your Business
We offer the flexibility of having your records digitized either on-site at your office or off-site at our scanning facility. Whatever your preferred location, DeVries' scan service gives you the information access you need and the convenience you want. Using advanced document imaging technology, our screened scanning specialists handle the entire document conversion process from start to finish, including:
File preparation and indexing
Optical Character Recognition (OCR)
Image verification and quality control
Post scanning storage and/or shredding
Your documents are converted to the file format of your choice and saved to your preferred media or document management application.
Your Local & Trusted Document Scanning Service Provider
We employ the same security best practices when scanning your records as we do when storing them. We've helped businesses in Spokane, Eastern Washington and Northern Idaho keep their information secure for over 25 years, so you know your sensitive information is being handled with the greatest care and confidentiality by our expert, background-screened staff.
To learn more about how we can help you convert your paper records to digital files, please contact us by phone or complete the form on this page. We look forward to serving you!
Request Your Quote
We would love to hear from you! Please fill out this form and we will get in touch with you shortly.
"*" indicates required fields
601 E Pacific Ave
Spokane WA 99202
Washington:
(509) 838.1044
Idaho:
(208) 765.4397
Toll Free:
1.866.433.4691
Office Hours:
Mon - Fri
7:30am - 4:00pm
Closed for Lunch:
11:30am - 12:30pm
Drop-Off Shredding Hours:
Mon - Fri
8:00am - 3:00pm
Closed for Lunch:
11:30am - 12:30pm