Secure Shredding Services in Spokane County, Washington
Your Trusted Source for NAID AAA Certified Shredding Services in Spokane County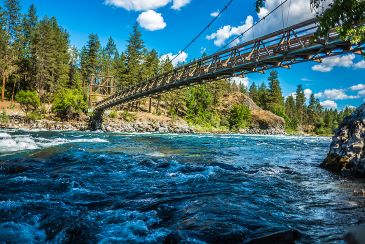 Welcome to DeVries Business Services, the leading provider of secure, NAID AAA Certified shredding services in Spokane County! Our comprehensive document destruction solutions protect your sensitive information while complying with federal and state regulations. Secure your critical data with the help of our expert shredding services.
For secure shredding service in Spokane County, Washington, call DeVries at 866-433-4691.
Why DeVries is the Preferred Choice for Spokane County
Decades of Expertise
With more than 25 years of experience in the shredding industry, DeVries has built a solid reputation for providing dependable, secure, and efficient services to Spokane County businesses and residents. Our skilled team of experts is ready to assist with all your shredding needs.
Trust and Security
As a NAID AAA Certified company, DeVries upholds the highest security standards in the shredding industry. We understand the importance of safeguarding your confidential information and are committed to being your trusted partner in document destruction.
Customer-Centric Approach
Our friendly and dedicated customer service team ensures a smooth and hassle-free experience. From scheduling shredding service to answering questions, we are always just a phone call away at 866-433-4691.
Customized Shredding Services for Every Need
At DeVries, we offer a wide range of shredding services designed to cater to your specific requirements:
On-Site Mobile Shredding: Witness the shredding process at your location with our mobile shredding trucks, equipped with advanced shredding technology.
Off-Site Shredding: Opt for secure transportation of your documents to our shredding facility, where they'll be destroyed using our state-of-the-art equipment.
One-Time Shredding: Ideal for large-volume document purges or annual cleanouts.
Scheduled Shredding: Perfect for businesses with ongoing shredding needs; we'll create a customized shredding schedule for you.
Residential Shredding: Secure and convenient shredding solutions for homeowners.
Drop-Off Shredding: Bring your documents to our facility for safe and efficient destruction.
Hard Drive Shredding & Media Destruction: Ensure the secure disposal of digital data stored on hard drives, CDs, DVDs, and other media.
Serving a Variety of Industries in Spokane County
DeVries proudly provides secure shredding services to a diverse range of industries, including healthcare, finance, legal, government, and many more. No matter your sector, we tailor our services to meet your specific needs.
Our Rigorous Shredding Process
As a NAID AAA Certified shredding provider, we adhere to strict guidelines and industry best practices. Our secure collection, chain-of-custody procedures, and a Certificate of Destruction provided upon completion ensure the highest level of security and confidentiality for your documents.
Environmentally-Friendly Practices
DeVries Inc. is dedicated to preserving the environment. All shredded paper is recycled, reducing waste and conserving resources. Choose our shredding services to protect your sensitive information while contributing to a greener planet.
Affordable and Flexible Pricing
We offer competitive pricing and customizable packages to accommodate your unique shredding requirements. Contact us for a free, no-obligation quote tailored to your needs.
Get Started with DeVries Today!
Ready for unparalleled shredding services in Spokane County? Call us now at 866-433-4691 or complete the form here on the page to schedule your shredding service in Spokane County. Experience peace of mind with DeVries, your NAID AAA Certified shredding partner.
Frequently-Asked Questions
How can I be sure my documents are securely destroyed?
As a NAID AAA Certified shredding provider, we adhere to strict guidelines and provide a Certificate of Destruction upon completion of the shredding process as your proof of secure destruction in case of an audit.
What materials can you shred?
In addition to paper documents, we also securely destroy hard drives, CDs, DVDs, and other digital media.
Do you offer shredding collection containers?
Yes, we provide secure shredding collection containers in various sizes to suit your needs, ensuring that your documents remain safe until they are ready for destruction.
Request Your Quote
We would love to hear from you! Please fill out this form and we will get in touch with you shortly.
601 E Pacific Ave
Spokane WA 99202
Washington:
(509) 838.1044
Idaho:
(208) 765.4397
Toll Free:
1.866.433.4691
Office Hours:
Mon - Fri
7:30am - 4:00pm
Closed for Lunch:
11:30am - 12:30pm
Drop-Off Shredding Hours:
Mon - Fri
8:00am - 3:00pm
Closed for Lunch:
11:30am - 12:30pm