Shredding Services in Spokane, WA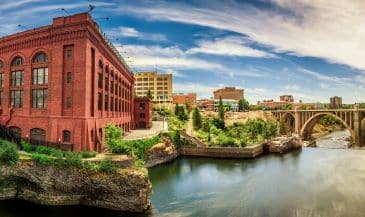 Welcome to DeVries Business Services, your trusted partner for secure shredding services in Spokane, Washington. With our NAID AAA Certification, we ensure the highest level of information security while complying with federal and state data privacy regulations. Safeguard your critical data with our expert document destruction solutions.
Call DeVries at 866-433-4691 for secure your shredding service in Spokane, WA.
Why Choose DeVries for Secure Shredding in Spokane?
Decades of Expertise
With over 25 years of experience in the shredding industry, DeVries has established a solid reputation for delivering reliable, secure, and efficient shredding services to businesses and residents in Spokane. Our team of skilled experts is ready to assist you with all your shredding needs.
Trust and Security
As a NAID AAA Certified company, DeVries Business Services upholds the highest security standards in the shredding industry. We understand the significance of safeguarding your confidential information and are dedicated to being your trusted partner in document destruction.
Customer-Centric Approach
At DeVries, we prioritize exceptional customer service to provide you with a seamless and hassle-free experience. Our friendly and dedicated team is just a phone call away at 866-433-4691. Whether you need to schedule a shredding service or have any questions, we are here to assist you.
Customized Shredding Services for Your Unique Needs
DeVries Business Services offers a wide range of shredding services tailored to meet your specific requirements:
Serving a Variety of Industries in Spokane
DeVries proudly provides secure shredding services to a diverse range of industries in Spokane, Washington. Whether you operate in healthcare, finance, legal, government, or any other sector, our services are tailored to meet your specific needs. We understand the unique requirements of different industries and ensure the confidentiality and security of your sensitive information.
Our Rigorous Shredding Process
As a NAID AAA Certified shredding provider, DeVries Business Services follows strict guidelines and industry best practices to ensure the highest level of security and confidentiality for your documents. Our rigorous shredding process includes secure collection, chain-of-custody procedures, and the issuance of a Certificate of Destruction upon completion. Rest assured that your sensitive information is handled with the utmost care and professionalism.
Environmental Responsibility
DeVries is committed to environmental responsibility. We understand the importance of sustainability and reducing waste. That's why we recycle all shredded paper, contributing to waste reduction and the conservation of valuable resources. By choosing our shredding services, you not only protect your sensitive information but also contribute to a greener planet.
Affordable and Customizable Pricing
We understand that each client's shredding needs are unique. DeVries Business Services offers competitive pricing and customizable packages to accommodate your specific requirements. We work with you to find the most cost-effective solution that meets your budget without compromising the quality and security of our services.
Get Started with DeVries Today!
Are you ready to secure your shredding services in Spokane? Contact DeVries Business Services at 866-433-469 or fill out the form on this page to schedule your shredding service. With our commitment to information security, exceptional customer service, and environmental responsibility, we guarantee a reliable and tailored shredding experience.
Frequently Asked Questions
How can I be sure my documents are securely destroyed?
Rest assured that DeVries Business Services follows stringent security protocols as a NAID AAA Certified shredding provider. Upon completion of the shredding process, we provide you with a Certificate of Destruction as evidence of secure destruction.
What materials can you shred?
In addition to paper documents, we securely destroy hard drives, CDs, DVDs, and other digital media. Our comprehensive shredding services cover a wide range of materials, ensuring the complete protection of your sensitive information.
Do you provide shredding collection containers?
Absolutely! DeVries Business Services offers secure shredding collection containers in various sizes to suit your needs. These locking containers allow for the safe storage of your documents until they are ready for destruction. We make the shredding process convenient and secure for you.
Request Your Quote
We would love to hear from you! Please fill out this form and we will get in touch with you shortly.
"*" indicates required fields
601 E Pacific Ave
Spokane WA 99202
Washington:
(509) 838.1044
Idaho:
(208) 765.4397
Toll Free:
1.866.433.4691
Office Hours:
Mon - Fri
7:30am - 4:00pm
Closed for Lunch:
11:30am - 12:30pm
Drop-Off Shredding Hours:
Mon - Fri
8:00am - 3:00pm
Closed for Lunch:
11:30am - 12:30pm