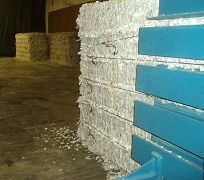 DeVries Business Services is proactive in providing secure on-site document destruction service. It is a service we take very seriously in the proper handling and destruction of your sensitive information. For over 25 years, Devries has been trusted partner by our clients for the secure storage and destruction of their guarded information.
Today, on-site document destruction service is our biggest line of business. Because of our large customer base in healthcare, insurance, banking, legal and government, keeping our clients compliant with laws and regulations is the utmost important job we do. Equally important to our residential customers is protecting them against identity theft. To ensure all of our customers are getting the most secure document destruction service, we at DeVries took it upon ourselves to become AAA NAID Certified (National Association of Information Destruction).
DeVries provides secure collection containers for the collection of your information. Our collection containers vary in size and style depending upon your requirements and office environment. On a scheduled or an on call basis, our mobile shredders arrive at your door for on-site service. We collect the bins and totes and place them on the hydraulic lift system of the mobile shredder so that you can witness the destruction of your business records being tipped into the shredder.
For our residential customers, we provide on-site destruction or convenient drop off service. Additionally, throughout the year, DeVries provides free Shred Day events in partnership with our business customers or non-profit organizations. Our free shred events are always posted on our Facebook Page. We encourage you to "like us" for free Shred Day announcements.
Our mobile shredding service employs both Pierce & Tear and Hammermil technologies. Whatever your requirements are, we can handle it. All shredded material is completely and irrevocably destroyed. Once destroyed, the shredded fiber is mixed and baled by Devries here in Spokane.
We pride ourselves in being a local business and as such, we buy locally when we can to support our community. All of our mobile shredders, trucks and courier vans are purchased locally. Our paper baler was purchased in Post Falls. Even our shredded fiber is recycled regionally in Yakima to produce apple cartons for Washington grown apples and newsprint for our local newspaper. We are high on regional sustainability, while low on our carbon footprint.
Our most important asset is our employees. They are truly our ambassadors. All of our employees are trained and coached on the importance of being professional, courteous and protective of your information. You will always find our employees professionally dressed and with their DeVries' Photo ID Badges clearly displayed. As an AAA NAID Certified company, our employees must pass a rigorous criminal background check and periodical on-going background checks. Our employees are dedicated to provide the most secure service for your protection of your business and personal identification.
Please note: Off-Site / Drop Off service is not NAID Certified.
Washington State Contract #07412
601 E. Pacific Ave
Spokane, WA 99202
Washington: (509) 838.1044
Idaho: (208) 765.4397
Toll Free: 1.866.433.4691
Office Hours:
M-F 7:30am-4:30pm
Drop Off Shredding Hours:
M-F 8:00am-4:00pm