Answers to Your Data Protection Questions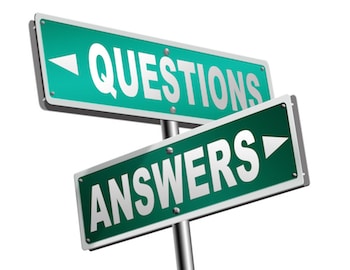 It's no surprise that there's a lot to know about data protection. We're asked questions daily! In order to help you implement a solid data protection plan for your company, we'll answer your frequently asked questions in this blog.
Q: How often should I back up my data?
A: As often as possible. A regular backup schedule keeps your most important files protected. Combine daily, weekly and monthly backups to protect your data from ongoing threats and to ensure data restoration at any point in time. Implement a routine and stick to it.
Q: What data should I backup?
A: First, identify the files and applications that are most essential for keeping your business running. Next, decide how long you could afford to be without them. Your vital business records may include:
Financial and tax records
Contracts and Agreements
Client and Customer Lists
Personnel records
Q: Where should I store my backup data?
 A: It's important to store your backup media in a facility that protects it from fires, floods, natural disasters and unauthorized access. Look for a climate-controlled data protection facility with fully automated climate control, waterless fire protection, and monitored security systems. In a data protection facility, screened data protection professionals manage your media, ensure wear is evenly distributed on each device, and take old tapes and hard drives out of service before they fail. Your media is available to you at a moment's notice to support your disaster recovery and data recovery procedures.
Q: I have old backup tapes. How do I safely get rid of them?
A: Data protection doesn't end with the final disposition of your digital information. Tossing old tapes and hard drives in the trash harms the environment and exposes your company to identity theft and business fraud.
Use a media destruction service to dispose of your data securely and in an environmentally friendly manner. On a set schedule, a mobile hard drive shredding truck will arrive at your business, and background-screened technicians will shred your media on-site. The barcodes and serial numbers of each shredded device will be recorded and you will receive a Certificate of Destruction for your records.
Q: How do I limit data breach threats to my business?
A: Along with proper storage and timely destruction, making regular backups of your data is the best way to limit data breach threats to your business. To assess your company's risk and compliance with state and federal privacy laws, invest in a breach reporting and readiness service. Data protection experts monitor and audit data breach threats for you, train your staff on privacy protection practices and implement breach notification protocols for your company.
If you have a data protection question we haven't answered here, give us a call. We love answering them!
DeVries Business Services proudly serves businesses in Spokane, Eastern Washington and Northern Idaho. To learn more about our data protection services, please contact us by phone or complete the form on this page.
Request Your Quote
We would love to hear from you! Please fill out this form and we will get in touch with you shortly.
"*" indicates required fields
601 E Pacific Ave
Spokane WA 99202
Washington:
(509) 838.1044
Idaho:
(208) 765.4397
Toll Free:
1.866.433.4691
Office Hours:
Mon - Fri
7:30am - 4:00pm
Closed for Lunch:
11:30am - 12:30pm
Drop-Off Shredding Hours:
Mon - Fri
8:00am - 3:00pm
Closed for Lunch:
11:30am - 12:30pm