PRISM Privacy+ Certification: Why It's Important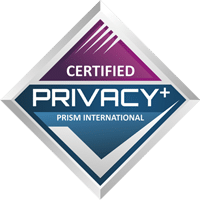 Choosing a records management provider isn't easy. You need security, dependability, and experience. Sometimes, the choice between two qualified records management companies comes down to one deciding factor: Privacy+ Certification In this blog, we highlight several ways working with a Privacy+ Certification records management provider benefits your business.
What is Privacy+ Certification?
Privacy+ Certification is administered by Professional Records and Information Services Management (PRISM) International, a trade association for commercial information management companies. PRISM awards Privacy+ Certification only to companies that meet or exceed the highest standards for information protection. A third-party auditor assesses Privacy+ Certified companies internal privacy controls every two years to verify ongoing compliance with PRISM's Privacy+ Certification program.
Oversight and Accountability
Records management providers are supposed to help businesses protect confidential records and data, but not all records management companies have the organizational processes, structure, and capability to ensure information protection. Privacy+ Certification is awarded to records management providers who follow organizational structures with clearly-defined employee roles and responsibilities. They must demonstrate strong managerial oversight of their staff to ensure information management and privacy protection measures are verifiable and measurable. This ensures their clients' records and data are handled, transported, stored, and destroyed securely.
Security
Big and small businesses are increasingly under threat from identity theft and fraud scams. When you entrust your records to a third party, you need unwavering assurance that the confidentiality of your information is upheld. By partnering with a Privacy+ Certified records management company, you know your information is protected from unauthorized access. A Privacy+ Certified records management provider invests in people, places, and systems that safeguard your records, including:
Secure records centers
GPS-tracked and alarmed delivery vehicles
Background-checked, HIPAA compliance-trained employees
Documented chain of custody procedures
Advanced document management and barcode tracking software
Each of these "controls" is audited by an independent third party as part of an overall risk management assessment.
Regulatory Compliance
If your company must comply with global privacy regulations, you want a records management provider who does, too. A Privacy+ Certified records management company complies with the following global regulations:
If you want a records management provider who doesn't just store barcoded boxes on shelves but is globally recognized for meeting a higher standard, choose a Privacy+ Certified records management company.
DeVries Business Services is the first records management firm in Washington state to be awarded PRISM Privacy+ Certification.
We proudly serve businesses in Spokane, Eastern Washington and Northern Idaho.
Request Your Quote
We would love to hear from you! Please fill out this form and we will get in touch with you shortly.
"*" indicates required fields
601 E Pacific Ave
Spokane WA 99202
Washington:
(509) 838.1044
Idaho:
(208) 765.4397
Toll Free:
1.866.433.4691
Office Hours:
Mon - Fri
7:30am - 4:00pm
Closed for Lunch:
11:30am - 12:30pm
Drop-Off Shredding Hours:
Mon - Fri
8:00am - 3:00pm
Closed for Lunch:
11:30am - 12:30pm