Shredding Services in Coeur d'Alene, ID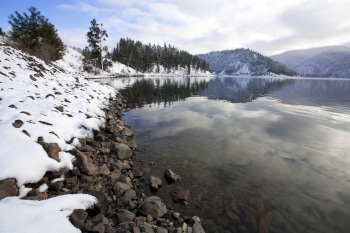 Protecting the privacy of your information and that of your customers should be a top priority. Even if one piece of paper falls into the wrong hands, your business could face thousands of dollars in fines and legal costs.
DeVries Business Services offers shredding services in Coeur d'Alene. We can tailor a shredding program to meet your organization's privacy and compliance needs. Our suite of shredding solutions includes the following services:
DeVries Business Services has served customers in the Inland Northwest since 1995. Ready to get started? Please contact us by phone or complete the form on this page.
Protect Your Confidential Information
Every business has sensitive paperwork that needs to be shredded. DeVries eliminates the time and hassle of shredding documents in house and guarantees the privacy of your information. Our secure collection containers offer you the peace of mind that comes with knowing you have a secure place for your confidential information. They come in a variety of sizes and styles to meet your destruction requirements and office decor:
Executive consoles
11-gallon containers
34- and 64-gallon bins
Each container comes equipped with a lock and key to protect the privacy of your information, and we bring them to your business free of charge. Our trained and background-screened information security professionals collect and destroy your documents within a strict chain of custody. We use Pierce & Tear and Hammermill mobile shredding technologies to make sure your documents are completely and irrevocably destroyed. You receive a Certificate of Destruction at the completion of every shredding project.
NAID AAA Certified Shredding
DeVries Business Services is the only locally-owned information destruction provider that is NAID AAA Certified for paper shredding. The certification program established by the sets industry-leading standards for a secure information destruction process. All aspects of our operational security, employee screening, liability insurance, and destruction methods are closely examined by an independent Certified Protection Professional® (CPP). As a result, you can expect the highest level of security when we shred your documents.
Comply with Federal Regulations
You have a legal obligation to protect the privacy of your customers and employees. We destroy your confidential information when it becomes obsolete at the end of its retention period. Every DeVries employee receives training on privacy law compliance and the secure handling of personally identifiable information (PII) and protected health information (PHI). Our information security experts can even help your organization develop written information destruction policies and procedures to meet regulatory requirements. As a result, your business has the resources it needs to comply with the following regulations:
To learn more about our shredding services in Coeur d'Alene, please contact us by phone or complete the form on this page.
Request Your Quote
We would love to hear from you! Please fill out this form and we will get in touch with you shortly.
"*" indicates required fields
In 2022, we recycled 2,250 tons of paper, saving:
7,425
cubic yards of landfill space
4,960,395
pounds of greenhouse gases
601 E Pacific Ave
Spokane WA 99202
Washington:
(509) 838.1044
Idaho:
(208) 765.4397
Toll Free:
1.866.433.4691
Office Hours:
Mon - Fri
7:30am - 4:00pm
Closed for Lunch:
11:30am - 12:30pm
Drop-Off Shredding Hours:
Mon - Fri
8:00am - 3:00pm
Closed for Lunch:
11:30am - 12:30pm